When I backpacked Europe, almost six years ago now (yeesh), I wrote a post about my thoughts on one month of travel, so, when E and I realized we'd been in Berlin for a month, we decided to write this post as a bit of a callback.
Here's the good, the bad, and the ugly from one month of living abroad in Germany. Plus, if you scroll all the way down, a little video of what we've been up to.
The Good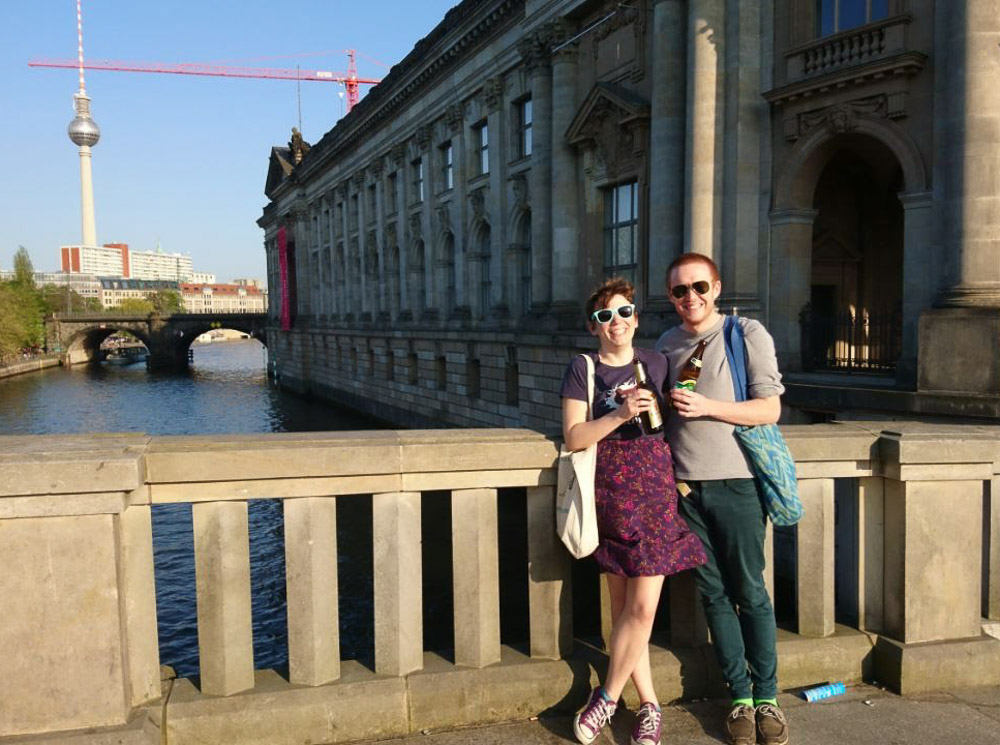 The Weather: We arrived right at the tail end of winter and, while our friends and family back home suffered through April snowstorms, we enjoyed days in the 60s and 70s (Fahrenheit, of course; we haven't figured out this whole Celsius thing yet).
The Parks: Wow, there's a lot of green space here!
The Waste Management: Berlin recycles paper, glass, plastic and metal packaging of several types, and the

pièce de ré

sis

tance

– there's a bin for compost! We're especially happy about this because our last two apartments in Boston only offered a single dumpster for the building and nothing else.
The Food: Of course we've had tasty German food (spätzle, schnitzel, pretzels, etc.), but some of our best meals have been at vegan restaurants. The cuisines available here are as diverse as in any huge, international city.
The Newness: It's just fun to be somewhere new. Berlin is huge, and there's so much for us to explore!
Our Jobs: E likes his job and his coworkers, as well as the larger community of video game developers he's meeting in Berlin. I'm enjoying my German class, and I've already edited two chapters of my book.
Our Weekends: I worked Tuesday-Saturday at my previous job and E worked Monday-Friday, which meant our only day off together was Sunday. Every Saturday night that we've been here, I've been pleasantly surprised to realize we have a second day off together.
Ramona: Our friend Ramona (a German woman E knows from when she was an exchange student at his high school) also just moved to Berlin, and it's been awesome getting to know the city with her!
WhatsApp: Why don't we use this app more in the US? It's text messaging over wifi. It's very good and convenient and just like why did it take me so long to get on the bandwagon?
The Location: I did a search on RyanAir for round trip flights under 50 euros and got more than 30 results. We can go so many places in Europe from here! (But …)
Our Apartment: This is probably the nicest apartment we've ever lived in; it's big and in a cool neighborhood. It has a second bedroom that I'm using as an office, plus a dishwasher, a washing machine, and a balcony overlooking the courtyard! (But …)
The Doggos: There are so many dogs here for me to admire! And they're so well-behaved; most of them walk off leash beside their owners. (But …)
The Cool Factor: Berlin is definitely the coolest place we've ever lived. Everyone is so fucking hip here. (But …)
The Bad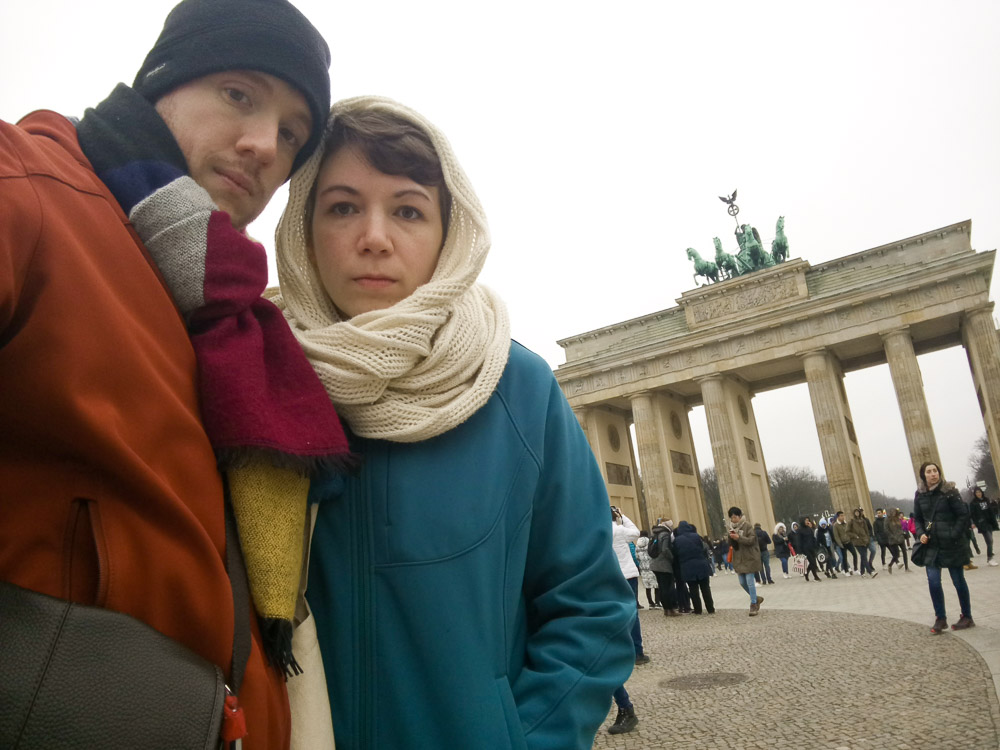 The Bureaucracy: This isn't an insult to Germany – it's just work to move to a new country. There haven't been more logistical challenges than we'd expect, but registering as residents of Germany, setting up bank accounts, figuring out insurance, getting tax ID numbers, converting our licenses… it's a lot to do and keep track of.
The Politics: We don't want to be a couple of ignorant Americans, so we need to get up to speed on EU politics. I'm a bit ashamed to say that, although I was an International Relations major in college, I barely keep up with US news these days, so we have some work to do.
The Water Culture: We're spoiled. We're used to public water fountains and free water with meals in restaurants, loaded with so much ice it freezes our teeth. We knew that things were different in Europe going into this move and that you're expected to pay for your water (and plastic-bottled water, at that), but it still takes some serious adjustment.
The Personal Space Culture: This is a small thing, but it's taking some getting used to. People don't get out of your way on the sidewalk here? I have collided with some strangers because no one steps aside until the last possible second.
The Time Zone: Most of the people we know are 6 hours behind us. Some are 9 hours behind, and some are a full 12 hours behind. We miss y'all!
The Location: We're fabulously centrally located in Europe… and it's been a whole month and we haven't even been out of the city yet!
Our Apartment: We're paying a lot for this place. Yes, we're paying less than we were in stupidly-priced Somerville, MA, but our income is less now and we're still paying well over the local average. We got the apartment through a service that would A) correspond with us in English and B) not mind that we didn't have all of our paperwork in order yet. And, you'll remember I mentioned it's in a cool location? Cool location + overpaying = directly contributing to rising rents and gentrification. So, that's not great.
The Doggos: The dogs here are so well-behaved that they have zero interest in new people. They'll walk right by minding their own business and not even look at me, which means I don't get to pet them!
The Cool Factor: Berlin is known for its hedonistic party scene. We're rarely awake past 11:00 pm.
The Ugly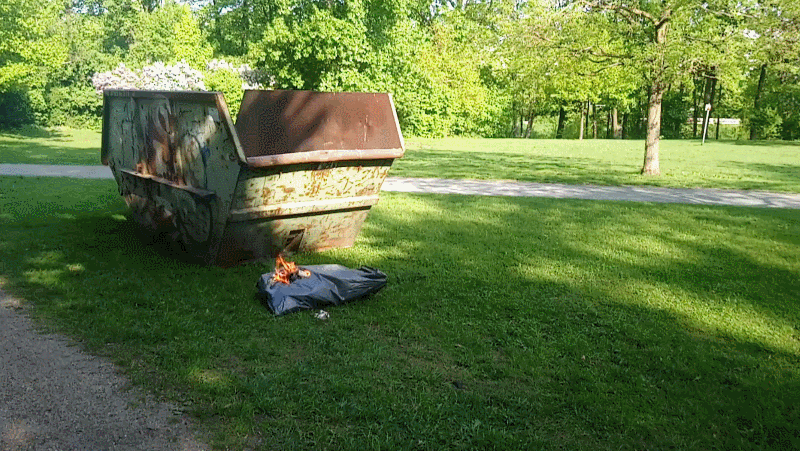 A LOT of people smoke tobacco. Being so centrally located in Berlin, we find it difficult to walk down the street, sit in a restaurant (even though smoking isn't allowed indoors, the windows are wide and the outdoor seating is packed with smokers), or stroll through a park without breathing in huge amounts of secondhand cigarette smoke, at least relative to what we're used to. According to locals (and the World Health Organization), the prevalence of smoking in Germany has gone down considerably in recent years, but it's still very common. This WHO chart shows the change we're experiencing coming from the US: an average 17 out of every 100 people in the U.S. smoke cigarettes, compared to an average of 30 out of 100 people in Germany. That's nearly double as much smoking as we're used to, and that's not even counting e-cigarettes, hookah, or pot.
Long time readers will remember at least one specific reason why we're not super thrilled about cigarettes, but that's not the only reason this falls in the "Ugly" category. We're thinking about having children in the next few years, and we have serious concerns about raising kids in such a smoky environment. If we brought our baby to a public park on a nice day, would we be able to find a place in the grass to sit that was upwind of smokers? Would we be able to set up a nursery that didn't have smoke drifting in the open window throughout the day and night?
Depending on your personal views, this may seem like a minor qualm, but it's very important to us. Much of the research around childhood exposure to secondhand smoke (the background of this study has some good links) has been focused on parents who smoke (and we're not planning on starting any time soon), but it seems like such an unnecessary and preventable risk that we wonder about how long we'll actually be able to live in Germany.
The Lonely The Surprisingly Not Homesick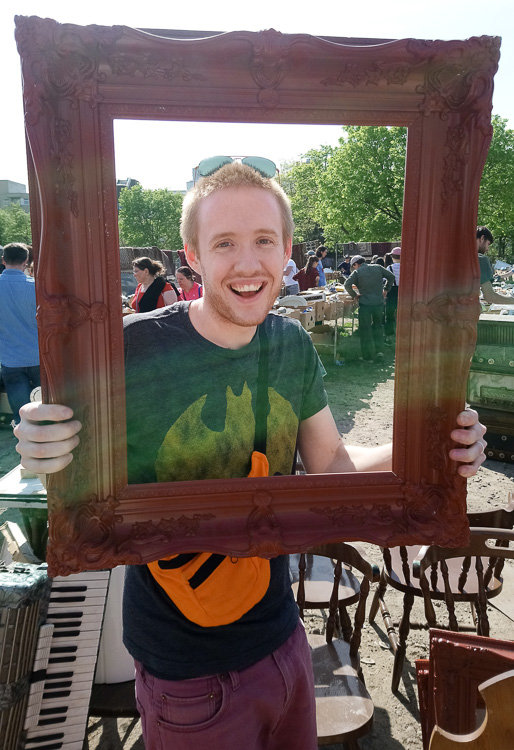 We were pleasantly surprised one morning to realize we haven't felt homesick at all. We miss our friends and family, obviously, but we're not looking wistfully at pictures of New England or wondering when it will be time to go "home" from this weird new life. And, not to get sappy and sentimental on you, but… it's because we have each other. E is my home and my person and that's what sets this adventure apart from most of the trips I've taken: I've brought my home with me.
Anyway… you made it to the end of this very long post! As promised, here's a video of some of what we've been up to. I made it using the 1 Second Everyday App, which encourages you to film something small everyday and choose 1 second from it to compile into a rapid fire video. It's very cute, and I've enjoyed doing it on and off for the last couple of years.