As you (probably) know, I did a lot of traveling around Europe 6 years ago. Gosh, it pains me to realize that trip was 6 years ago. This feeling is only going to get worse as I get older, isn't it?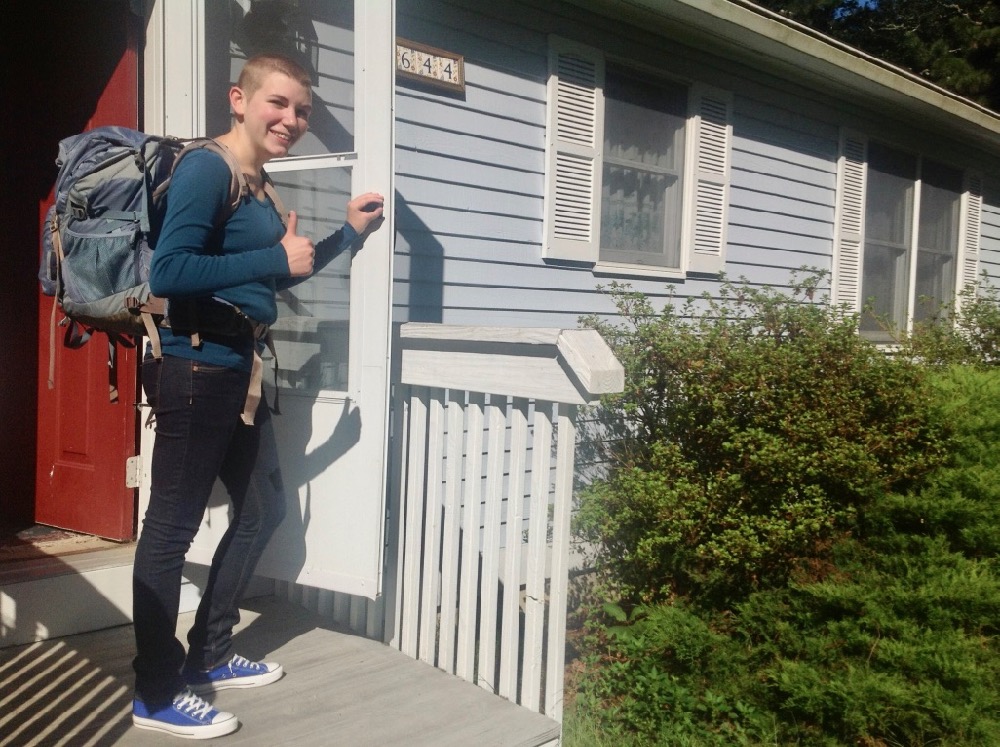 Sometimes when I travel, I have to assume I'll be back again someday. Otherwise I drive myself mad trying to fit in as many experiences as possible and lamenting all the things I don't have time for. Three years ago, E and I took a vacation to Barcelona and a couple days into the trip, I was in tears because I realized there wasn't time to show him everything I wanted to in my favorite city in the world. God bless him, I'm a very emotional person…
Most of the time, though, I'm able to let go of my premature nostalgia by telling myself, "it's fine, hopefully I'll be back someday!"
Actually going back, though? As it turns out, that's been surprising and a little weird.
I didn't choose Berlin
When E got the job in Berlin and we told people we were moving here, they often assumed we had some particular interest in the city and asked if we'd been before. And my answer was always, "yes… but…" Because I spent a week in Berlin when I backpacked around Europe (you can read about the experience here or here), but that had nothing to do with why we moved here. Berlin was neither my favorite nor my least favorite stop on that trip.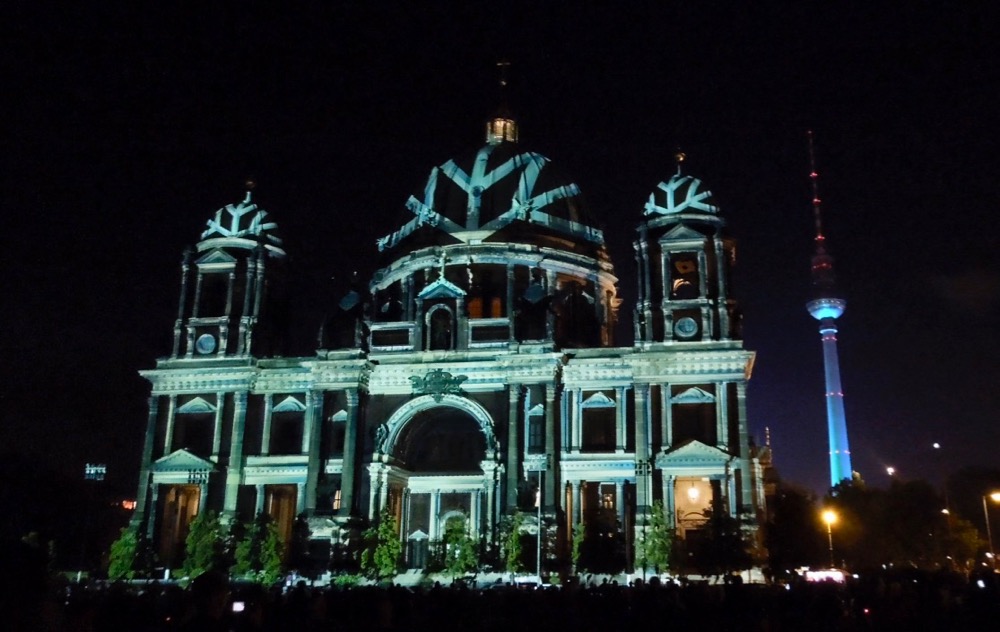 When I took this photo of the Berliner Dom (Berlin Cathedral) in 2012, I thought it was cool that the city was projecting light shows on to some of its famous landmarks. I didn't think to myself, gosh, I hope my husband gets a job working in this building 6 years from now so we can move here.
I've forgotten Berlin
Sometimes when we were showing our friends around Berlin this summer, the question would come up, "have you been there before?" And more than once my answer was, "yes… but it was 6 years ago… so I'm happy to do it again!"
To be perfectly honest, I don't remember everything I did on my last visit to Berlin. I didn't realize that I had been up to the top of the TV Tower until I was looking through my old photos and found some that I took up there.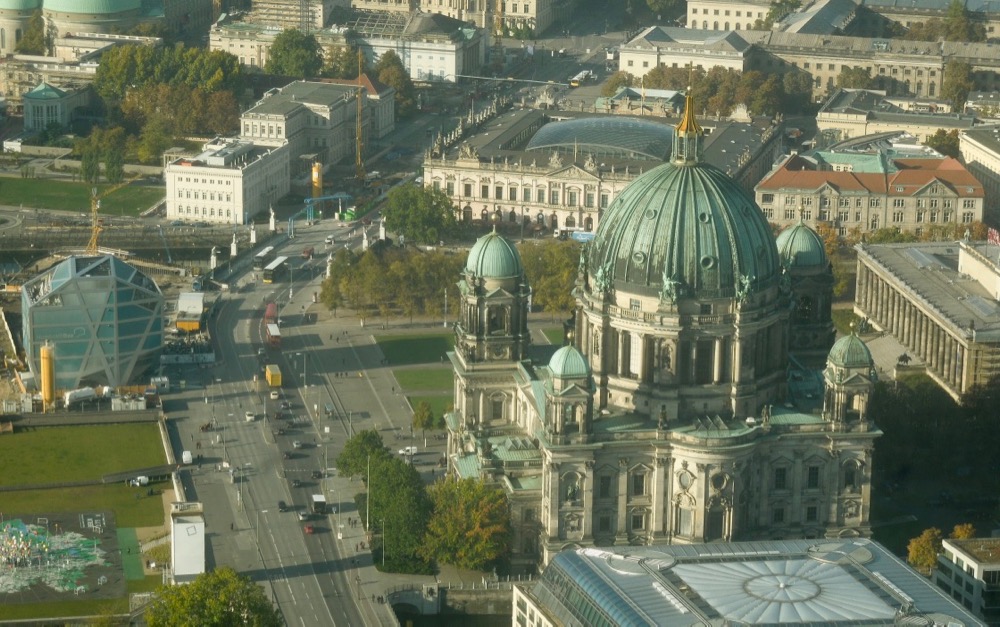 Perhaps even more damning, is this shot of a courtyard that I took 6 years ago. I recognized it because I photographed it again from the exact same angle when I was there 2 weeks ago.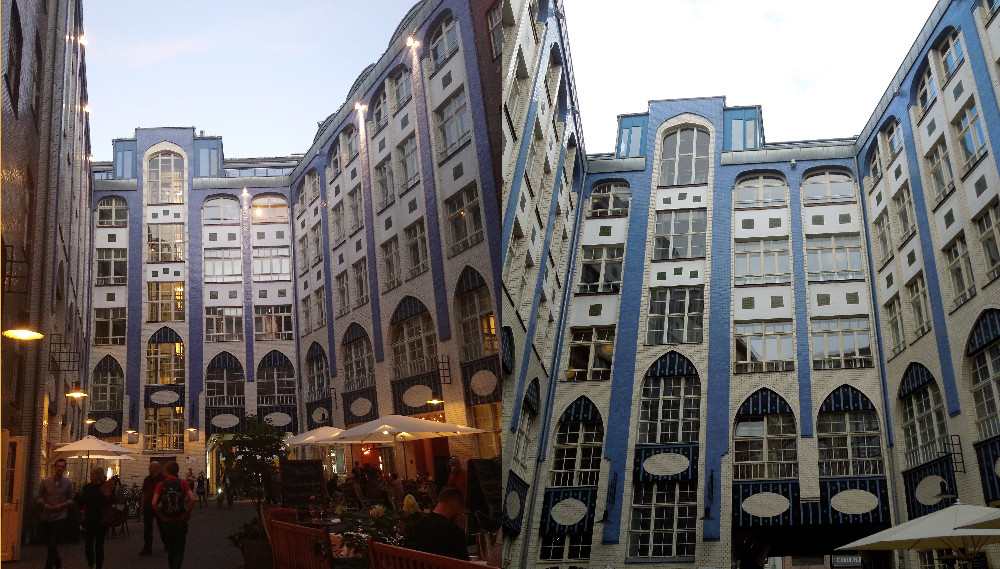 I can't find the Berlin I do remember
Another bizarre layer to all of this is that the book I'm writing is about my travels 6 years ago. I was actually working on the chapter that takes place in Berlin when we moved here back in April and it was a little surreal. I joked with people that the Berlin chapter was going to be way more detailed than the others because I live here now.
But the truth is I only catch glimpses of things I remember. In 2012, my friend Brittney was leading me around the city so I didn't form my own mental map of public transit or the various neighborhoods. I can't even remember where my hostel was.
I have a few visceral memories of Berlin and sometimes I expect to turn a corner and encounter them. It happened on one of our first days in the city back in March. We were looking for a copy shop to print something and ended up by Friedrichstraße train station and I stopped.
"I've been here before," I told E. "At least… I think I have. This is the station where I met Brittney on my first day in the city. We met up at that Starbucks. She showed me the statues around the corner…"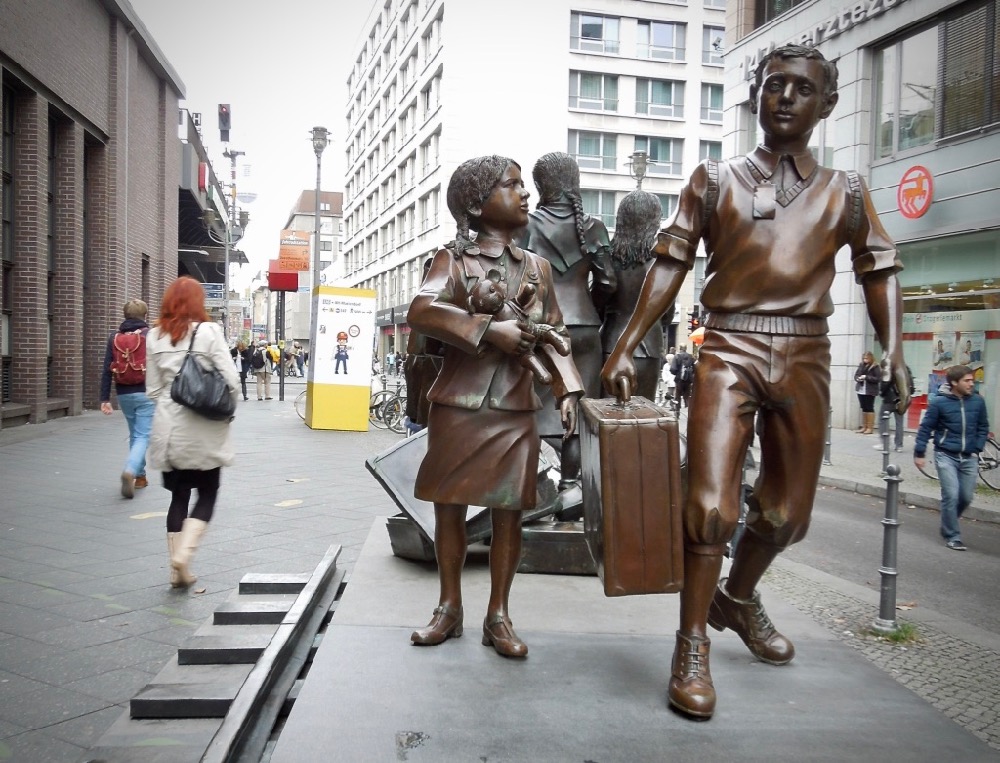 And sure enough, when we walked around the corner I saw seven bronze statues of children outside the train station. This memorial is called "Züge ins Leben – Züge in den Tod" (Trains to Life – Trains to Death). Five of the children look in one direction and represent the Jewish children who were sent from Friedrichstraße train station to concentration camps during the Holocaust. The other two children look the opposite direction and represent the 10,000 children who were sent to the UK as refugees and saved from the Nazis. The man who sculpted this memorial, Frank Meisler, was one of those Jewish children who boarded a train for England at Friedrichstraße in 1939.
Seeing this statue stuck with me in the recesses of my mind. I had to look up the details of the sculpture to write this post, but the memory of it was there and enough to make me pause. It made me wonder if other places would have the same effect.
So, is it good to be back, or not?
I remember a moment 6 years ago when I was walking up a set of stairs on my way to the S-Bahn and I had a spring in my step. A smile broke out on my face, conjured up by nothing but the feeling that this was right. I was where I was meant to be and doing what I was meant to do and I was content in the world. It was sudden, fleeting. I sometimes wonder if I would feel that way again if I were to walk that same street.
It's odd to be back but not back. To recognize some things and to remember others but to not be able to recreate them. Moving here with my husband is a totally different experience than backpacking here after I graduated college. And I'm really grateful that both of these experiences are part of my history. It's a good life.