Berlin teems with a lot of things — nightclubs, Turkish food, Communist architecture. For me, Berlin teemed with history. Every street seemed to hold information about the city's often painful past. Much of this is conscious preservation in the form of public parks and landmarks, but there are a few subtle aspects of the city that speak volumes about, specifically, its 20th century history.
The architecture changes when you move between the former West and East Berlins. In East Berlin, the buildings are pragmatic, functional, ugly in that classic Soviet style. The TV Tower, now the phallic symbol of all Berlin, was once a prominent expression of the power of East Germany (officially, the German Democratic Republic).
Some pieces of the Berlin Wall remain in their original locations with office complexes simply built up around them, while lone surveillance towers, which once overlooked the Wall, now stand idly on side streets.
The columns of the Alte Nationalgalerie (Old National Gallery) on Museum Island are pockmarked due to Allied air raids, an eerie addition to the beautiful buildings.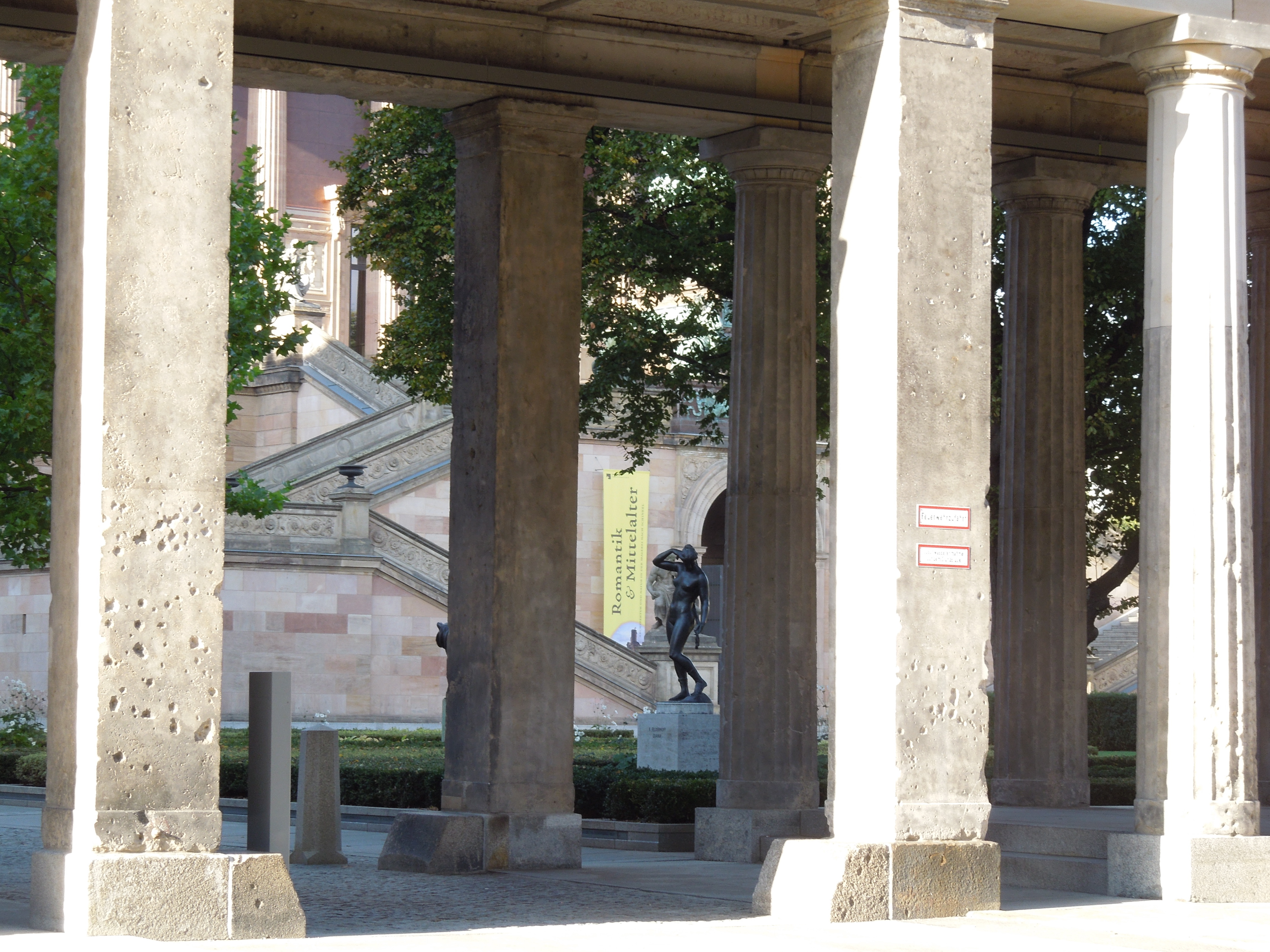 The city's tram system is another reminder of its divided history because it is almost entirely confined to East Berlin. When the city was divided, West Berlin replaced its trams with bus routes and retained control of the U-Bahn (metro). U-Bahn stations in East Berlin were closed indefinitely and in a few places West Berlin underground lines passed through East Berlin without stopping. Today, the public transit system is unified and efficient, but the location of the tram lines acts as a subtle expression of the city's history.
These reminders could have been repressed or covered up, but Berlin isn't running from its past. Instead, history is being discussed, uncovered, learned from. There are monuments such as the haunting Memorial to the Murdered Jews of Europe.
There are more photo-op appropriate places, such as Checkpoint Charlie. This is the most famous Berlin Wall border crossing, which connected the American Sector of West Berlin with East Berlin. It was the site of many attempts to flee from East Germany. The Checkpoint itself is a little kitschy – you can get your photo taken with someone dressed in a period military uniform who will then stamp your passport with an East Germany stamp (I thought that was kind of cool).
Nearby, along Friedrichstraße and Zimmerstraße are outdoor exhibits on the history of the history of the checkpoints, their relevance during the Cold War, and perhaps most interesting, attempted and successful escapes through Checkpoint Charlie. It told tales of people escaping in the trunks of diplomats' cars or wearing American military uniforms that had been smuggled across the border. It also commemorated the lives of people who were killed trying to cross the border and whose deaths were covered up for years by the East German government.
Another interesting public park with information about Cold War Berlin is actually named the Berlin Wall Memorial and is located along Bernauer Straße, a street that once straddled East and West Berlin.
In the early days of the division, doors and windows along Bernauer Straße were boarded up because they looked out over the French Sector of West Berlin. Some East Berliners escaped by jumping out their windows into West Berlin, and a few died trying. Residents of the buildings along Bernauer Straße were quickly relocated as the Berlin Wall was constructed. With aboveground escape routes blocked off, this street became the site of escape tunnels.
The park is well designed with markers showing where the wall stood, as well as the locations of look-out towers and the paths of the tunnels.
These are just a few examples of the ways in which Berlin is maintaining and commemorating its history. I've focused on public parks and monuments because access to them is free, and to me that shows how dedicated the city is to allowing everyone to learn about and from its history. There are also many amazing museums in Berlin, which can also teach you about the city's history, such as the DDR Museum (a hands-on museum that explores what everyday life was like in East Germany) and the Jewish Museum (an enormous commemoration of two thousand years of German Jewish history). Whether or not you pay for the information, though, I doubt you could visit Berlin without learning something.