On Saturday, August 9th, my apartment burned down.
I'm going to tell you the story, but first I need to work through the semantics of what happened. "Burned down" feels wrong because the building is still standing, if structurally unstable and unlivable. I can drive by my former apartment and see one tattered curtain still hanging in the living room window. "Burned up" is the more accurate phrase when we think about how fire actually spreads, but it also seems to imply whatever has been burned is now gone.
"My apartment caught fire and burned for several hours" is a truthful description of the events, but it doesn't convey the proper sense of devastation. "My apartment experienced a fire" is a phrase I used in a few emails about what happened, but that feels like laughable understatement.
When my dad died a few years ago, I felt like I couldn't read or watch anything without dead parents or cancer popping up and ruining the experience. Now fire is everywhere. Expressions like "go up in smoke" hold new meaning for me, and again weirdly imply that there is nothing left. Most of my possessions did not "go up in smoke." A few did, but others melted or drowned or were simply buried under debris. Many of my books are still sitting prettily on a shelf where I left them, smoke and water damaged beyond repair, but bearing no visible scars on their bindings.
While E and I were looking for a new apartment, we found a place that seemed nice, until we realized the upstairs neighbor was a smoker. When I called my mom and told her about the experience she said, "you've been burned by that before." She was not intentionally making a pun, and neither of us commented on the poor choice of words. E and I had figuratively and literally been burned by having neighbors who smoked cigarettes. It was surreal.
The fire started in our downstairs neighbors' bedroom around 8:30 pm. I don't know what the official cause was because I never sought out the police report, but we're pretty positive it was a cigarette. We'd been complaining to our landlord for months that our neighbors smoked inside and it drifted into our apartment almost daily. These neighbors were both Vietnam veterans who had been living in the building for over a decade and so the landlord put up with them and we were expected to do likewise.
We had just finished dinner and were watching television in our living room when E looked over and saw the smoke in our kitchen. We jumped up to make sure we hadn't left the stove on, but it quickly became clear that our apartment wasn't the source. Our building had a front and back staircase and each apartment had a hallway that spanned the length of the building between them. E ran down the front staircase and saw smoke coming out from under the door of apartment 3B — directly below ours. He banged on our neighbors' door, but no one answered. I ran down the back staircase to check the other door to their apartment, but no one responded to our pounding.
Despite the fact that there was smoke in multiple units, the building's fire alarms hadn't gone off. E called the fire department and the smoke detector on the third floor finally sounded while we attempted to force our cat, Sox, into his carrier. He fought us, and so we let him behind, treating the situation more like a fire drill than the four alarm blaze it became.
We tried to go out the front door, but when E opened it, a burst of smoke entered our apartment. We took the back staircase down and out of the building, but when E looked up and saw flames coming out of 3B's bedroom window, we realized the gravity of the situation. "We have to go back for Sox," he said. And so we went back into our burning apartment building, up the stairs to the 4th floor, and shoved the cat into his carrier, ignoring his assertion that he would rather hide behind the couch.
I mention that E was the one who made us go back for Sox because he doesn't like the cat. E tolerates my cat because I like having a pet, but as we have joked with friends and family since the fire, there's a big difference between not liking someone and wanting them to perish in a fire.
Ducking beneath the smoke, we left the building again and were still some of the first people out. The fire department had arrived and there was nothing to do but stand across the street and watch. As the firefighters tried to keep the blaze from spreading to the house next door, it became clear that we were not getting back in that night.
As the night dragged on, it became clear that we might not get back in ever. The smoke was so thick and the outlook so bleak that we walked the four blocks to Revere Beach, but we couldn't escape either aspect of our situation. I hadn't thought to grab my purse, just my phone and my keys. We had both left the house in flip-flops and some of our least favorite clothes. We had seen the fire burning in our bedroom and couldn't help but think of all the possessions we were losing while we sat impotently by the beach — E's kindle, the dress I had made in Senegal, that stupid moose lamp. Not to mention all our possessions in the other rooms of the apartment, which were sure to go up in smoke next.
The fire burned until 5:00 am. My friend, Lisa, drove me and Sox to her apartment around 2:00 am, but E stayed outside our building all night in the hope that someone would be able to tell us if and when we could get back in. By the time the fire had been put out, it had burned in the roof for several hours. E joked with the firefighters that there were more skylights in our apartment than he remembered. Because, as anyone who has dealt with tragedy can tell you, at some point all you can do is make jokes. Really fucking dark jokes.
E's car was blocked in by fire trucks all night and so, at 6:30 am, Lisa and I drove back to Revere to pick him up. We slept for a couple hours at Lisa's apartment and then she treated us to breakfast. We went back to the apartment to pick up the car and saw people walking by ogling and even photographing the damage. Strangers on the street were taking cell phone photos of our former life.
We drove to my mom's apartment in Rhode Island, and she took us shopping for a change of clothes, toiletries, something to wear on my feet besides the flip-flops I bought at Old Navy in 2008 for $2.50. For that first day after the fire I could count my possessions on my fingers, and it was sad and even a little funny. The two things I owned besides the clothes on my back were my phone and the keys to an apartment that no longer existed.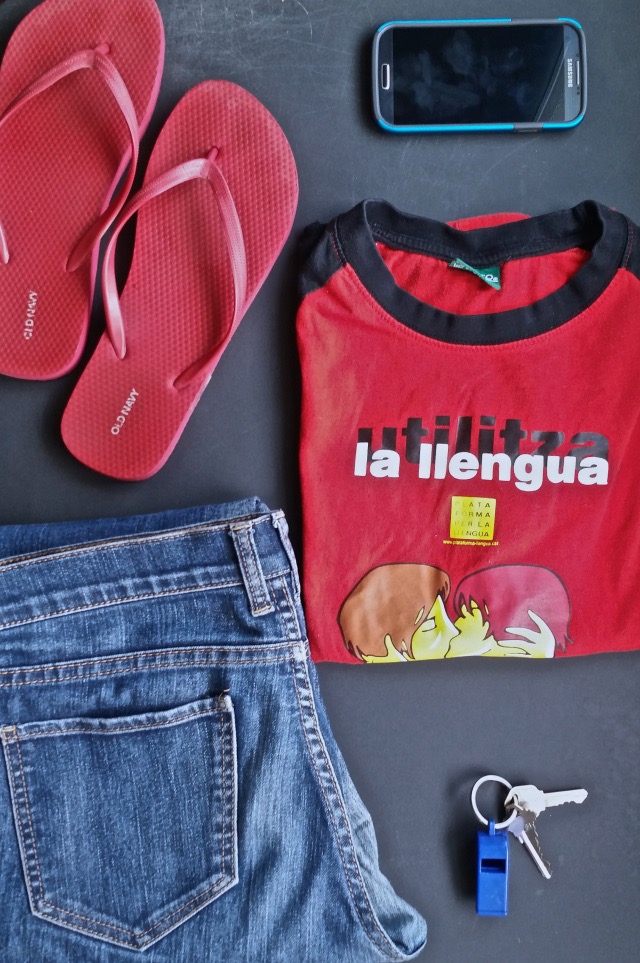 Thankfully, this is not where the story ends. August was the strangest month of my life thus far, but it wasn't the worst. Just the weirdest. We survived the fire, and so we started to rebuild.
On Tuesday, August 12th, we were able to get back into our building and salvage a few of our possessions, both practical and sentimental. My purse and its contents were intact, if wet, and I learned that credit and debit cards don't hold the scent of smoke. We salvaged the hard drive from E's computer and the external hard drives that were sitting on the desk. They were sopping wet, but when we dried them out they worked. Miraculously, three years worth of travel photos weren't lost in the fire, nor were the years of work E has put into designing video games. The floor of the living room was covered in a couple inches of debris — ceiling tiles and insulation — and when you stepped in certain places water surfaced around your shoe, but when we pushed aside some of the refuse we found our coffee table — a driftwood frame built by my grandfather and a tiled top hand painted by my grandmother — completely unscathed.
Our friends, family, and coworkers were incredibly generous in the weeks that followed the fire. They gave us furniture, home goods, and money. E and his parents went back into the building to salvage more of our possessions and they washed and wiped and sanded down smoke damaged items for us. One of my cousins, whom I hadn't seen in five years, let us stay with her in Cambridge while we looked for a new apartment, because that's what family does.
We found a beautiful new apartment and the landlord was nice enough to let us move in a week before September 1st, free of charge. In the midst of all of this, I had a job interview, you know, because I needed more stress in my life. Then I spent 4 nights in our new apartment before I got on a plane to Vancouver to visit my brother and his partner, RJ. My mother and I had planned this trip months before the fire, and although I didn't want to leave E alone so soon after the fire, spending some time with my family seemed warranted. Halfway through the trip, I was offered a job, and so tomorrow, September 8th, almost exactly one month since my apartment fire, I start a one-year, full-time fellowship at the Museum of Science.
Given all these changes, you probably shouldn't expect to see any blog posts in the coming weeks or even months. But this isn't the end of An Opportune Moment, just a hiatus.
The last month has been strange and sad and stressful. On the night of the fire I told Lisa, "I feel entitled to a life with fewer tragedies," but that's not what I got, and it's all turning out alright anyway.