I didn't want to leave Berlin.
Berlin was big and interesting, and there was so much to see — this was why I had left my plans open, why my travel dates were all tentative, so I could stay longer in places I loved.
But I didn't love Berlin. It was beautiful, and historical, and tasty, and I hadn't even gone to any art museums yet! But that wasn't why I wanted to stay. I wanted to stay because Berlin was safe.
There's nothing wrong with feeling safe; in fact, I hope that you feel safe while traveling. But I didn't go to Europe to hide. I went to see new places, and have new experiences, and find out what I was capable of. I wanted to travel solo, strong and confident. I wanted to push myself out of my comfort zone, and Berlin was making me complacent.
I had a friend in Berlin, and spending a week with her was exactly what I needed. When I wrote a reflection on one month of travel, I admitted to feeling lonely traveling solo in Amsterdam and Copenhagen.
I didn't want to leave Berlin because I didn't want to go back to that loneliness. I was afraid to travel solo again. I spent my last evening in Berlin at Berlin Tempelhof — a former airport turned public park — nearly in tears, but positive it was time to move on. I wasn't learning anything by allowing my trip to stagnate.
So, the next day, I boarded a train to Poland and spent a pleasant afternoon reading, writing, and admiring the knuckle tattoos of the attractive punk boy sitting across the train compartment from me. I would be visiting the homeland of my mother's family. Although we no longer have any connections to Polish relatives, at holiday gatherings, we eat Polish foods like kielbasa and pierogi, and we toast in a language none of us speak, "na zdrowie." This was exciting! I could travel with just myself for company — my own thoughts were interesting enough.
I switched trains at a station outside of Poland's capital city, Warsaw, the only backpacker among locals on the platform, terrified when my train was late, and baffled when it finally arrived and was filled to the brim with football fans. I stood wearing my backpack and leaning against the door for 45 minutes until I couldn't take it anymore and hit a Polish man in the face while removing it.
An hour and a half later, we arrived in Krakow and spilled out of the train station. It was late, nearly midnight, but the city was still awake in places, and the soft street lights seemed welcoming rather than spooky, so I followed my fellow train passengers into the city's main square.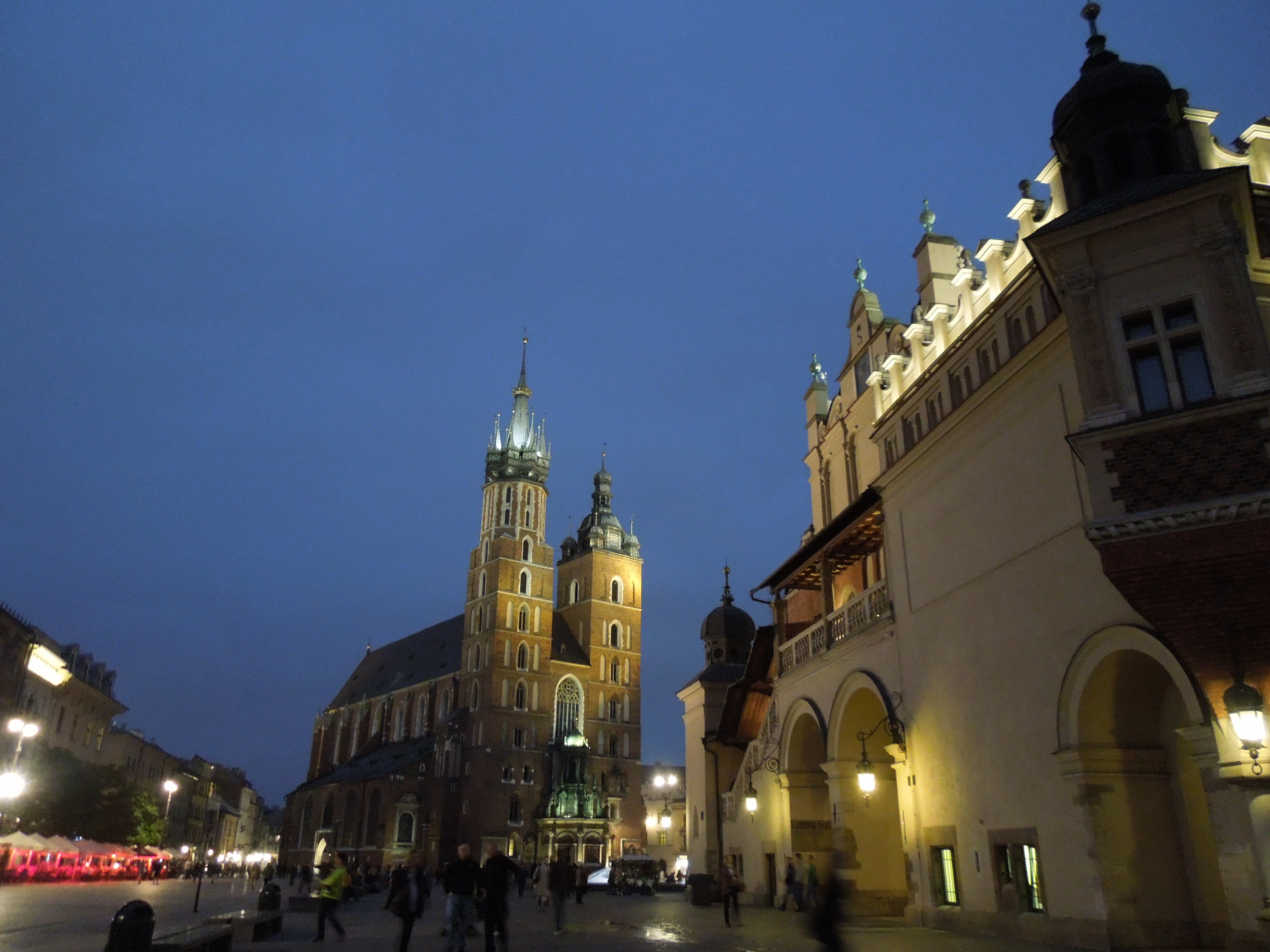 Down a side street, past a nightclub, and up an unlit flight of stairs, I found my hostel, which, despite its seedy entrance, I would recommend highly. Mama's Hostel had thin blankets, and someone in my dorm room kept opening the window, so I woke up feeling cold. But the showers were hot, and the free breakfast was extensive, and I made my way out the door to see Krakow in the daylight feeling optimistic.
I went on a free walking tour and, while waiting for it to begin, chatted casually with a few other travelers. One woman said she was very tired and just wanted to go back to bed. "Why don't you? You're on vacation!" I tried to quip, but it came out accusatory. I just wanted to remind her that we were free to do whatever we wanted, and wasn't that awesome!? She replied that she'd been traveling for six months already and it wasn't a vacation, it was "more of a lifestyle."
Oh, yeah, sorry. She seemed pretentious, and I felt embarrassed, but as the tour went on we chatted more. The tour was by the aptly-named company, Free Walking Tours, and it was informative, amusing, and an awesome introduction to Krakow. More importantly, though, at the end of the tour, lifestyle-girl said she was going to a restaurant someone had recommended to her, and confided that after months of traveling alone, she hated eating by herself.
"Can I come?" I asked. We sat talking at that restaurant long after finishing our meals, and then spent the rest of the sunny afternoon wandering Krakow. It was her last day in the city. We talked about our long distance relationships, and sleeping in hostels, and the college degrees we weren't using.
You know that obnoxious, well-meaning advice people give, "as soon as you stop looking for love, you'll find it." Well, as soon as I stopped being afraid of loneliness, I stopped feeling lonely. Instead, I started making friends. It was cliched in the best possible way.
I loved Krakow for a lot of reasons, including its food, architecture, history, and art scene, but I especially loved the people I met there. Just hours after saying goodbye to lifestyle-girl, I met cool people at my hostel, and I spent my last two nights in Krakow couchsurfing at an awesome local woman's apartment.
I think Krakow has something to offer most travelers. For me, it stands out as a turning point in my trip.
Travel is often shaped by the people we meet along the way. Where in the world do you love because of the people you were there with?