Amsterdam and I had our ups and downs, but as soon as I bought a bus ticket to Copenhagen, I felt a pang of sadness at having to leave such a lovely city that I was really just beginning to get a feel for.
Regardless, here are a few final photos from my trip to Amsterdam.
Perhaps I've been a bit redundant in my posts about this city, but I'll say one more time that the architecture and the canals were just stunning.
When Amsterdam wasn't wowing me with its beauty, it was making me laugh. The next photo encompasses beautiful architecture and questionable water sports.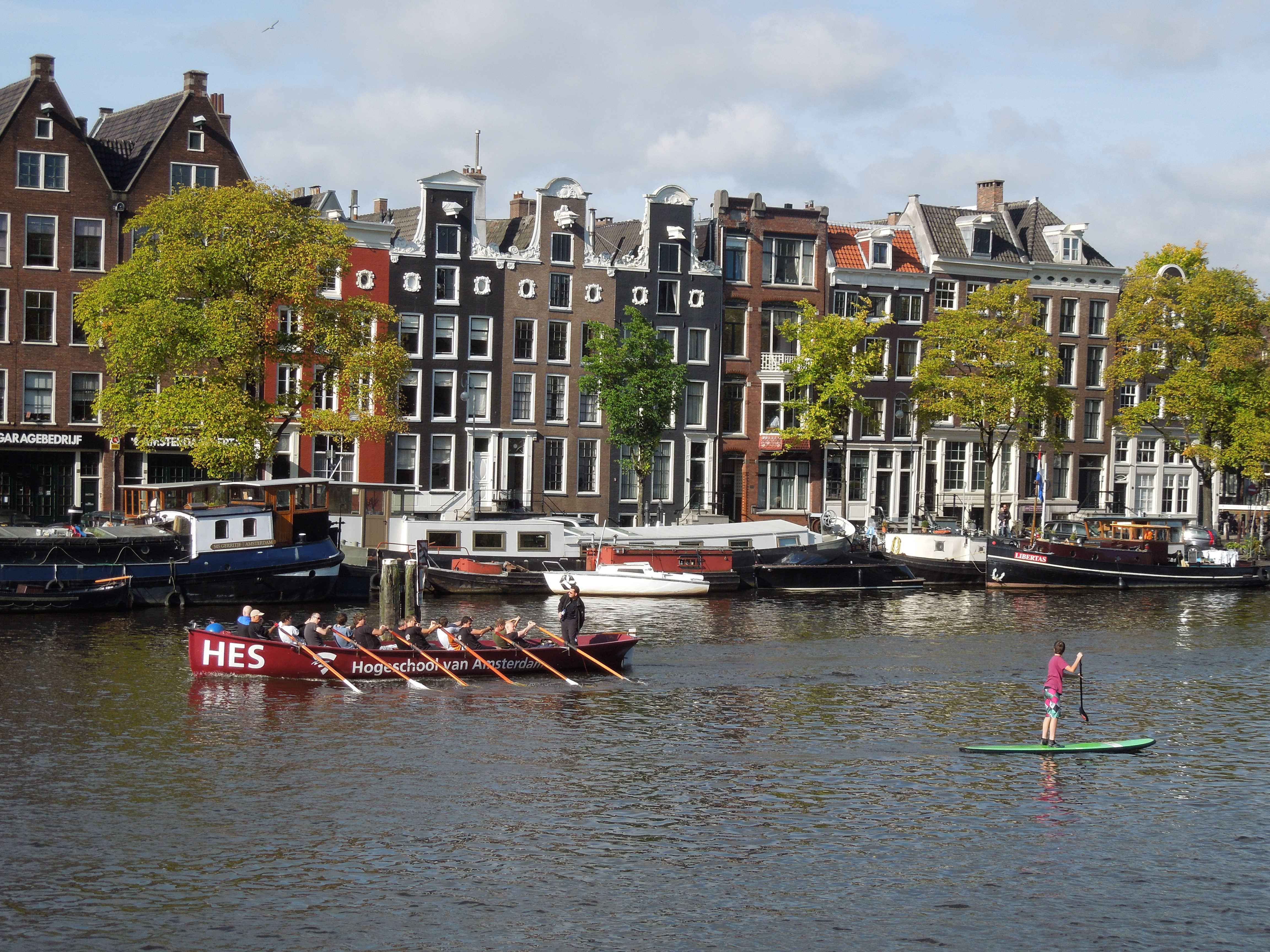 Plus, sometimes a city famous for sex can be genuinely funny rather than just misogynistic.
I saw these beauties at Albert Cuypmarkt, which is a street market on Albert Cuypstraat in the De Pijp neighborhood, and has been around since 1905. It's the largest street market in the Netherlands and there are vendors selling fresh produce, fish, flowers, and prepared foods as well as clothing, jewelery, and shoes. I bought myself a scarf there, and enjoyed a delicious lunch from the food stalls. Albert Cuypmarkt is open everyday except Sunday from 9:00am until 5:00pm.
This photo is from the canal cruise I took on my last day in the city. I went with Blue Boat Company because my hostel offered a discount on their cruise, but there are plenty of options depending on what exactly you're interested in seeing. I just wanted to get out on the water, learn a little bit of history, and enjoy a brief sunshine-filled respite from walking. I think a canal cruise is definitely a silly touristy thing that's worth your time.
Despite views like that, Amsterdam isn't at the top of my list of cities to return to. I have a friend who absolutely adores it and wants to move there for graduate school. I'd visit Amsterdam again with her as my tour guide because I'd love to see her version of the city–her favorite restaurant or neighborhood, and the little things that made her fall for Amsterdam. But barring that, I'm satisfied with the experiences I had there.
Tomorrow your weekly travel inspiration is Amsterdam-themed, but otherwise check back on Sunday for my first impressions of Copenhagen, Denmark.