I lived in Hana, Hawai'i for two months while working on an organic farm, and, as such, I have some insights into what life is like there. I want to share my pseudo-local perspective with anyone considering a visit or a more extended stay like mine. These are the insider tips you learn from living in a place, and knowing people who have lived there longer, but they are not the lifetime of understanding that comes from being born and raised in a place. Hence "pseudo-local."
I've mentioned the Hana Highway twice before (here and here), but I'm dedicating a post to it now because it's one of the main attractions in East Maui.
How can a highway be an attraction?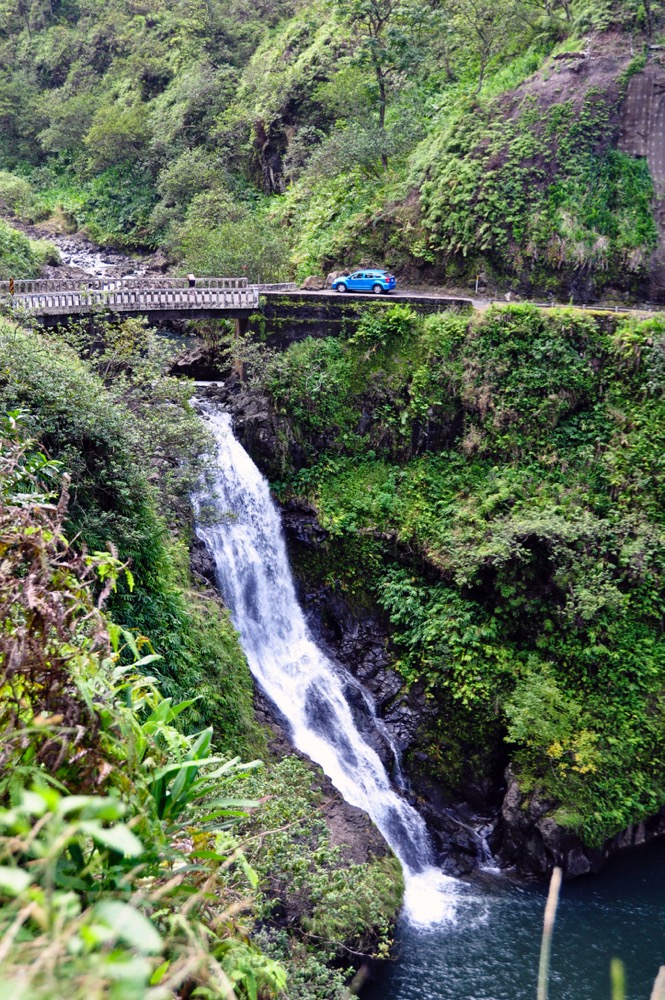 Tips for driving the Hana Highway:
1. Maui Revealed: This guidebook may not look like much, but it gives the most comprehensive rundown of hikes, waterfalls, beaches, and scenic overlooks along the Hana Highway that I've seen. I'd definitely recommend picking up a copy if you're feeling at a loss for how to plan your trip.
2. Give yourself enough time: You'll only cover about 52 miles driving from Kahului to Hana, but it will take you 2+ hours to make the trip because there are over 620 curves in this narrow, cliff-side road. Plus, it will take even longer if there's traffic. Traffic is worst going from Kahului to Hana in the morning, and from Hana to Kahului in the mid-afternoon. Try to avoid these times if you don't want to scare yourself going around blind corners, or bore yourself waiting for your turn to cross one of the highway's 46 one-lane bridges.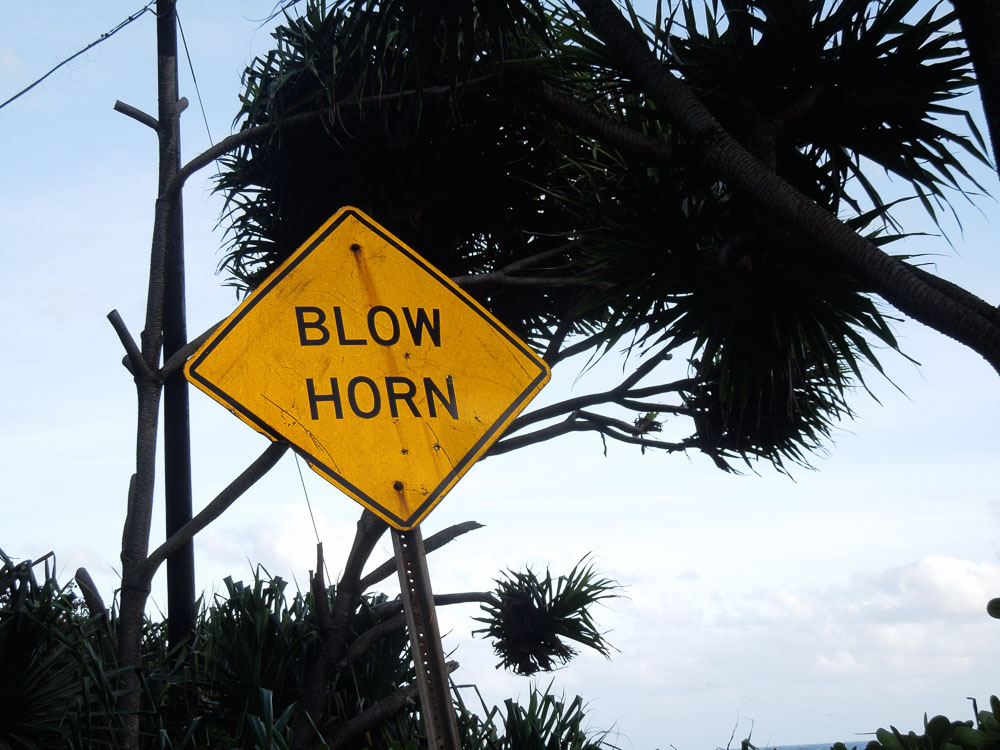 3. Consider driving the whole East Maui loop: Many people drive from Hana to Kahului and back, but you can easily continue through Hana and back around to Kahului, seeing some of the upcountry towns along the way. A small portion of the highway past Hana is unpaved, and rental car companies say that their cars are not insured for this sort of driving, but I assure you, having driven on the dirt portion, your car will be fine. By driving past Hana, you give yourself the opportunity to stop at Oheo Gulch and go hiking, see Charles Lindbergh's Grave, and watch the landscape change from lush and tropical to arid plains.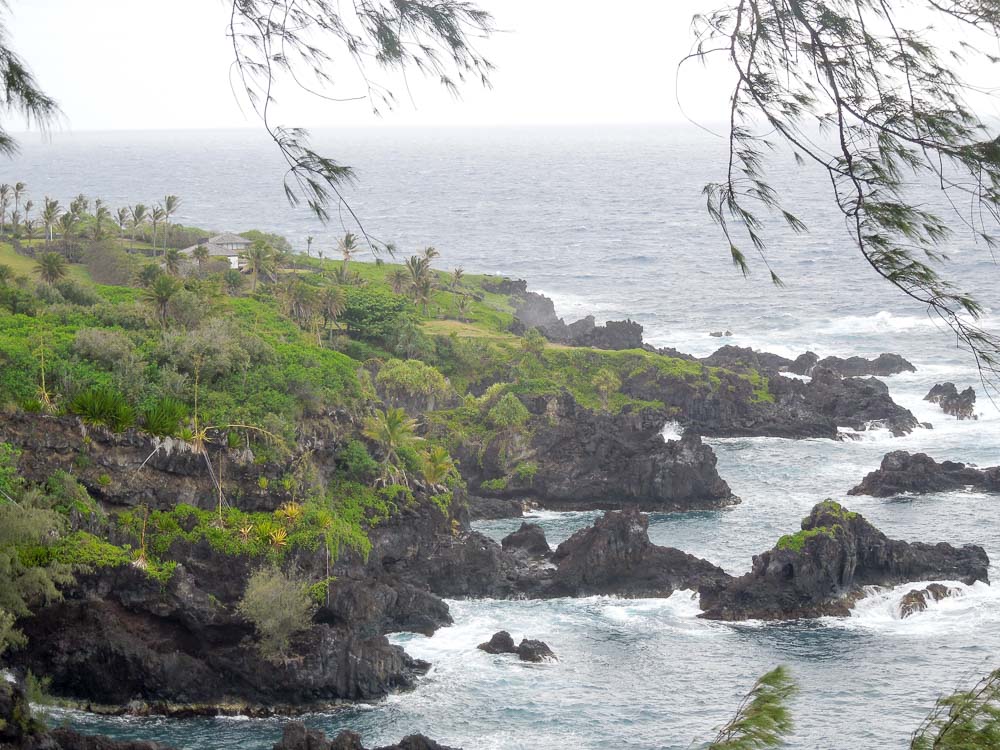 4. Keep in mind that people live along the Hana Highway: Remember that for some people the Hana Highway is a daily commute (or once weekly drive to get groceries that aren't ridiculously expensive, etc.) so try not to drive unreasonably slowly or at least have sympathy for the local drivers who are making you uncomfortable with their breakneck speeds. If someone is tailgating you, I'm sorry for their rudeness, and I recommend you pull over (there are plenty of opportunities to do so) and let them pass so that you can drive safely and calmly.
Recommended stops along the Hana Highway:
1. The Bamboo Forest: This stop is the most touristy, but it's also super! Spend some time wandering through paths cut into bamboo that's taller than you are (it's especially nice on a hot day because the bamboo's shade makes the temperature noticeably cooler). You can't miss it because people park their cars up and down the side of the road when they visit. If you're driving toward Hana from Kahului, it's just a few miles past the cute, bohemian town of Paia.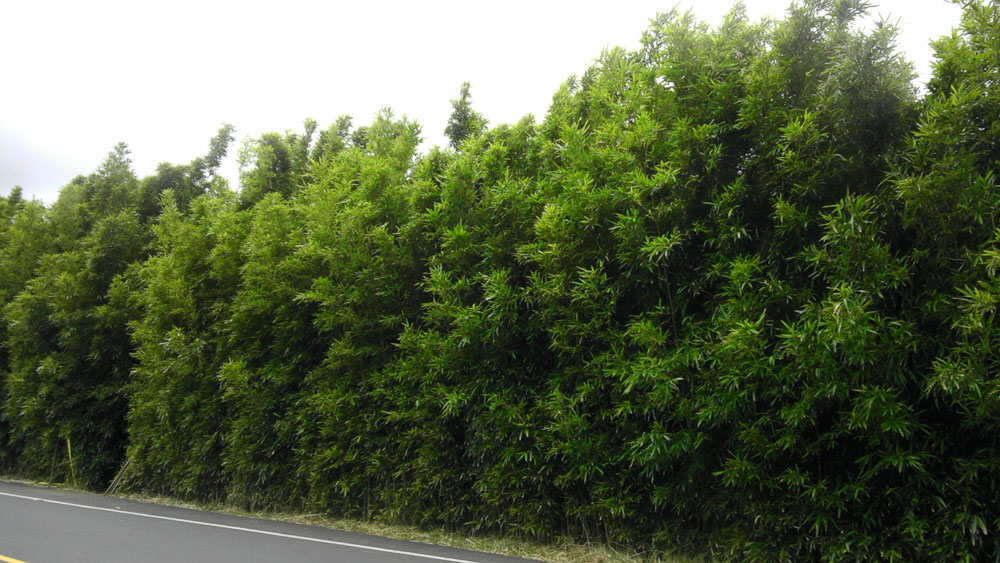 2. Hug a Rainbow Eucalyptus: You'll pass a few groves of Rainbow Eucalyptus trees while you're driving, so be on the look-out. There's one spot in particular that has a pull-out with parking for 3 or 4 cars and trees just along the road so that you can see and touch them for yourself.
3. Ice cream at Coconut Glen's: While driving along the Hana Highway, you'll pass a number of small stands selling fruit and banana bread, but if you have a sweet tooth, Coconut Glen's, just after mile marker 27, is the roadside stand you want. They make the most delicious non-dairy ice cream out of fresh, organic coconuts. You won't regret it.
4. The Hana Lava Tube: Guys, it's a cave that was formed by molten lava, and you get to walk around in it! The road to get to the Lava Tube is at mile marker 31, and this attraction does cost money ($12), but I think it's worth the price. The signs throughout the cave are informative and funny, and it's a fun family-friendly activity for a rainy day.
Supposedly, Hana is one of the most remote towns in Hawai'i, but due to the popularity of the "Road to Hana," it's also a tourist town. This makes for an interesting mix of people in Hana on any given day: native Hawaiians, hippie transplants from the mainland, rich folks with waterfront property, and day tourists of all ages.
Tips for Exploring Hana Town:
1. The Beaches of Hana: Check out this post for a rundown of the 3 main beaches near Hana Town — Waianapanapa, Red Sands, and Hamoa. All three are worth a visit, but Red Sands might be the most spectacular looking.
2. Hasegawa General Store: If you need anything during your visit to Hana — sunscreen, sandals, beach towels, soda, cereal, children's books, granola bars, curry paste, souvenir t-shirts, light bulbs, nails/screws, bug spray, dvd rentals — Hasegawa is your best bet. Even if you don't need anything, it's worth a visit just to see the wide and varied assortment of products they carry.
3. Consider staying overnight: If you want to stop at scenic overlooks along the Hana Highway, hug a rainbow eucalyptus, visit the three main beaches around Hana Town, hike around Oheo Gulch, and drive the rest of the East Maui loop, this adventure quickly becomes more than a day trip. If you do decide to stay overnight in Hana (I hope you do), consider finding accommodations with a kitchen or at least a microwave because there are only a handful of restaurants in Hana, and most aren't open for dinner. The Hana Ranch Restaurant is one of the only dinner options within a 2-hour radius around Hana, and their food is priced accordingly.
4. Pranee's Thai Food: This lunch option is located just down the street from Red Sands, and is open daily until about 4:00 pm, although they start running out of some dishes around 2:00. At Prahnee's, there are two chefs, Pranee and Nutcharee, and people say the food is better when Pranee is cooking, but I loved Nutcharee's food too, so get yourself a Thai iced tea, and don't even worry about it.
5. Hana Fresh: Another lunch option is Hana Fresh, located on the right (when you're driving from Kahului) in front of the Hana Health Clinic. Part farmer's market and part outdoor restaurant, Hana Fresh's food is healthy, reasonably priced, and when you support them, you're helping to fund the Hana Health Clinic and keep healthcare accessible for the people of Hana.
6. Meet some locals: There's no way I could end a post about Hana Town without recommending you stop by Hana Farms where E and I lived and worked for 2 months. The Hana Farms banana bread stand is located next to the "Welcome to Hana" sign and is one of the largest and best known roadside stands — many locals simply refer to it as "banana bread" as in, "hey, you stopping by banana bread this morning?" The banana bread, hot sauces, and macadamia nut toffee we make on the farm and sell at the stand are delicious, and if you'd like to meet some locals (mostly of the hippie transplants from the mainland variety) you should stop by in the morning, buy a cup of coffee (bring your own mug for a discount) and take a seat at the covered picnic tables labeled "The Smoking Lounge." As the name implies, smoking is allowed at these tables, but it's where the locals like to sit even when they aren't lighting up.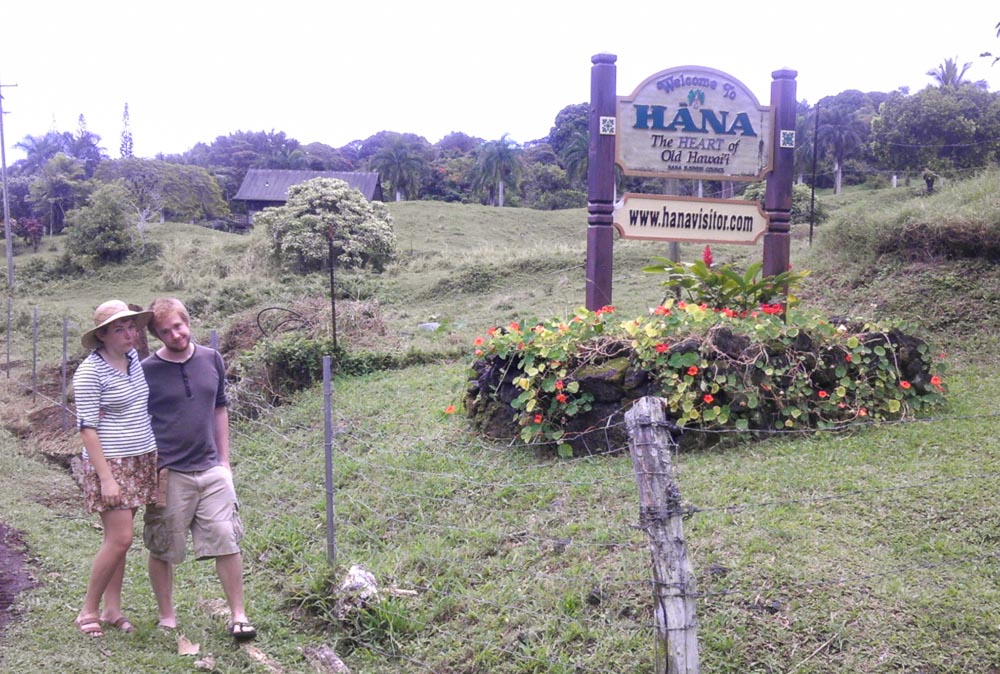 7. Clay Oven Pizza: On Friday and Saturday night, you should stop by Hana Farms between 4:00 pm and 8:00 pm for pizza night. Clay Oven Pizza is a small business run by one of the people who lives and works at Hana Farms, and the menu includes about 10 different pizzas, cooked in clay ovens, and served with love. When it isn't broken, they pull out the projector and play a family-friendly movie. Again, the locals and Hana Farmies will be chilling in the Smoker's Lounge, but if you'd just like a delicious slice of pizza or a salad made with fresh greens grown on the farm, Clay Oven Pizza is the place to be.
Have you driven the Hana Highway? Visited Hana Town? Would you recommend anything that I missed?