If I'm being honest with myself, Prague is a very popular tourist destination, but its Eastern European location and fairytale architecture make me feel like I've discovered something unique and secret. And while Prague is a unique city, it's not a secret. Prague hosts 4.1 million international tourists a year and, in 2011, Prague was the sixth most visited city in Europe.
I don't have statistics on how many backpackers visit Prague each year, but I can give you a rough estimate: a whole lot.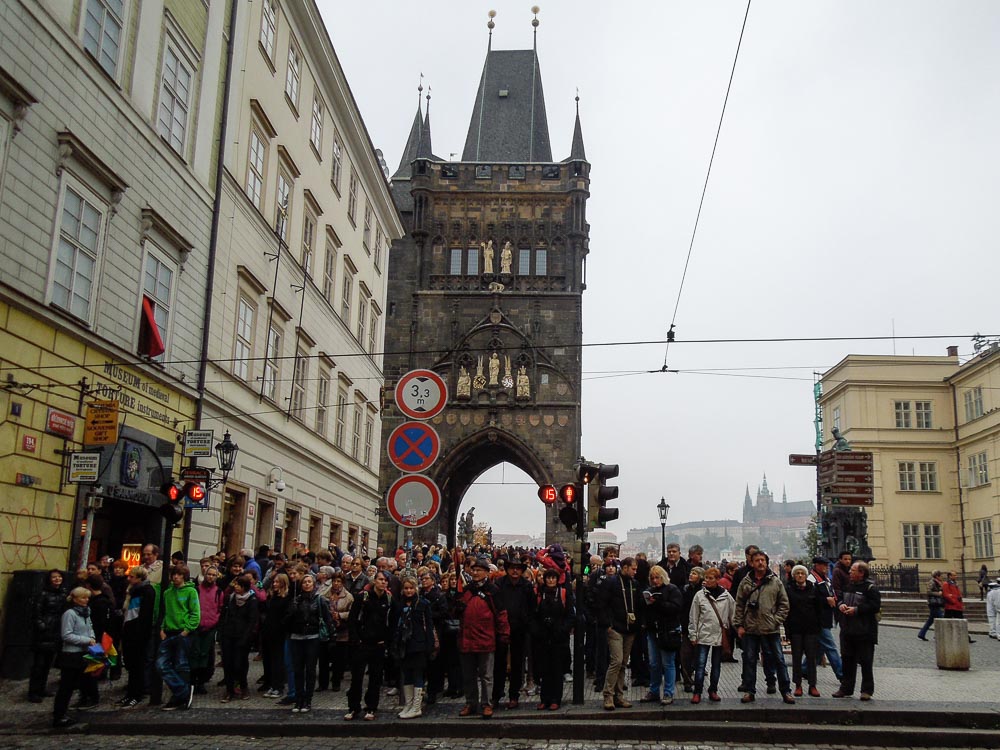 While some backpackers are looking for "off the beaten path" destinations, the fact that there are so many visitors to Prague year around is a huge part of why it makes such a good destination for first-time solo travelers.
Throughout The Great European Adventure, I visited a number of destinations during the low tourist season (like Dubrovnik, Croatia in late November), and it felt like I was the only backpacker there. If you're traveling with a friend, like I was, or hoping to connect with locals, this can be perfect because you don't have to deal with crowds of tourists. However, if you're on your first solo trip, and there simply aren't a lot of other travelers around, you might have trouble meeting anyone and end up feeling lonely, like I did when I first started traveling solo.
I don't know about you, but I'm an introvert, and sometimes that makes meeting people hard whether I'm on or off the road. That being said, almost everyone who has traveled solo, myself included, will tell you to try it at least once, and Prague is a great place to get your feet wet.
Prague is never empty. It has a high tourist season (summer and Christmastime), but even during its low season, free walking tours run every day, pub crawls run every night, and there will be a crowd in front of the Astronomical Clock in the Old Town Square.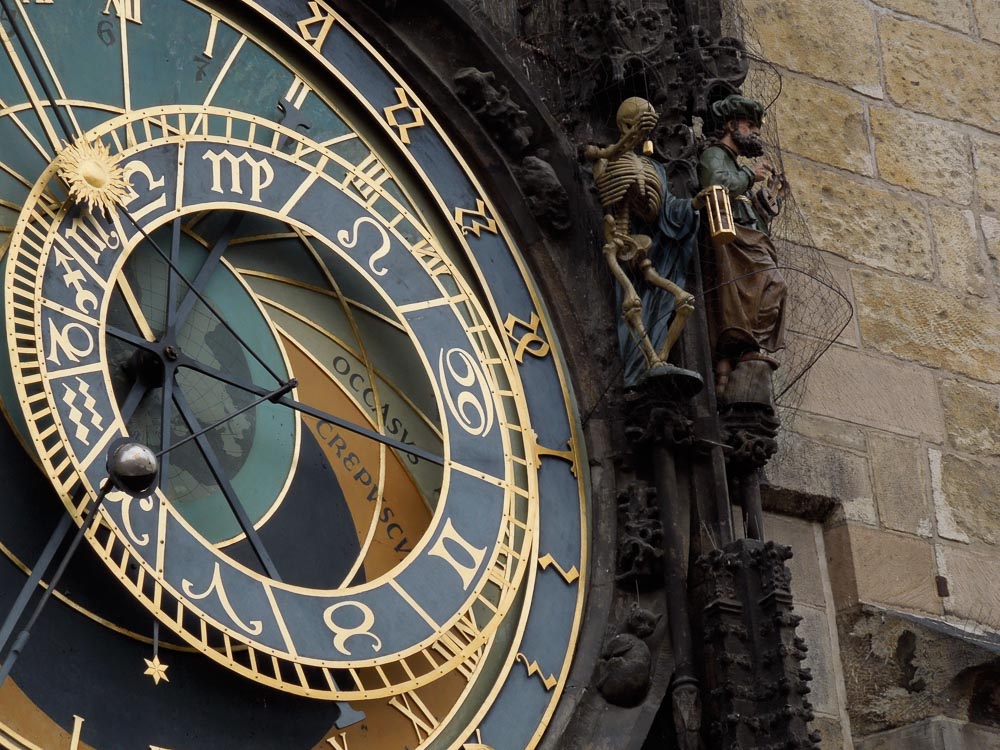 I stayed at two different hostels during my visit to Prague. Hostel Mango has a great location around the corner from the Charles Bridge, but it lacks any indoor common space, which was an issue in late October. (It also had wifi that was slow to the point of being useless, but you might not consider this as big of a problem as I did.) I mention this not because it was a bad hostel (the beds were comfortable, the pillows were fluffy, the en suite bathroom was astonishingly clean), but to give you an idea of what to look for in a hostel as a solo traveler hoping to meet people.
The hostel I switched to, Old Prague Hostel, was more expensive (around $25 per night), but I decided it was worth the price for a few reasons. It's less than 5 minutes walking from the Old Town Square (where most tour groups meet), breakfast is included, and the layout makes it easy to meet people. The common room is small so when everyone was getting breakfast in the morning it was hard not to introduce yourself to someone. I made friends with another solo female traveler one day because there were no chairs available, she was sitting on the floor, and I sat down immediately in front of her.
If you're traveling solo, and interested in going out in the evening, Sandeman's New Europe Tours runs a pub crawl most nights that specifically picks people up at this hostel before continuing on to the meeting point for people staying elsewhere. So, if you're hanging around the hostel around 7pm, you're bound to run into someone who's going out, and if you're feeling brave, you can ask them to go partying with you. Introverts, never fear, some extroverted backpacker is likely to ask you first.
Now, Old Prague Hostel didn't pay me to talk up their hostel (I wish), and I'm sure there are lots of other great places in Prague that make it easy to meet people. If you're looking at hostels on a hostel booking website, I'd recommend trying to find centrally-located hostels (although they're more expensive, they're likely to be full even during low tourist season and midweek), and places that show photos of their common room. If breakfast is included, then at least once a day the common room will actually be occupied, and you can talk with others about their plans for the day.
I didn't go on the pub crawl with New Europe, but I mention it because if you're not meeting anyone in your hostel, organized tours can be a great option. There are multiple groups that offer free walking tours of Prague (I went on one with Discover Prague) and I'd recommend starting with one of those. They're a great way to introduce yourself to a new city, and in between learning from your tour guides and seeing the sights you can make small talk with other travelers and see who you might want to invite out to lunch with you.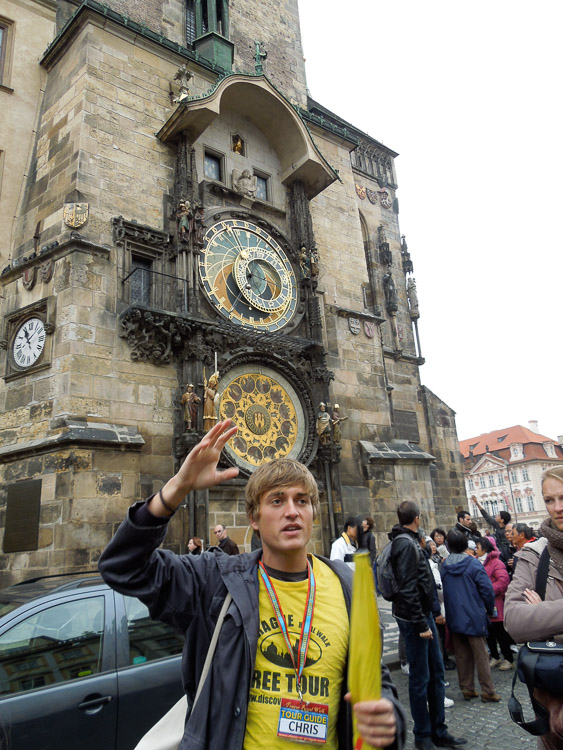 If you enjoy your free tour, you might consider taking another tour with the same company. I liked the guide of my free walking tour (he looked like my ex-boyfriend's older brother, which was a little weird, but I got over it) so I ended up going on his Beer Tour that evening, which brought people to three different bars and beer halls around the city to learn about Czech beer. There was also ample time to get to know the other people on the tour over a pint. The Beer Tour, as well as the other tours that these companies offer cost money, but may be worth the price depending on your interests.
I took a lot of tours (maybe too many?) while I was in Prague, and I met a lot of people that way. I got dinner with a group after going on a tour of the Prague Castle. While I wouldn't necessarily recommend the tour, I liked the people I met, and ended up going on a pub crawl with them that night. If you need some motivation to get you up the hill to see the castle, then the tour is worth it.  For example, the weather was terrible when I went, which made the tour less enjoyable, but also meant that without it, I wouldn't have bothered going up to the castle at all. If you have nice weather, I'd recommend exploring on your own because the tour doesn't get you into any of the buildings anyway; it just explains what they are from the outside.
I also took a group tour of Kutna Hora, a small town an hour outside of Prague, and saw the famous bone chapel. I wrote about that experience on Halloween last year, and I would recommend taking a tour. Most of the tour companies offer the same experiences for around the same cost, so you have options and can shop around, but I don't know that the product varies greatly.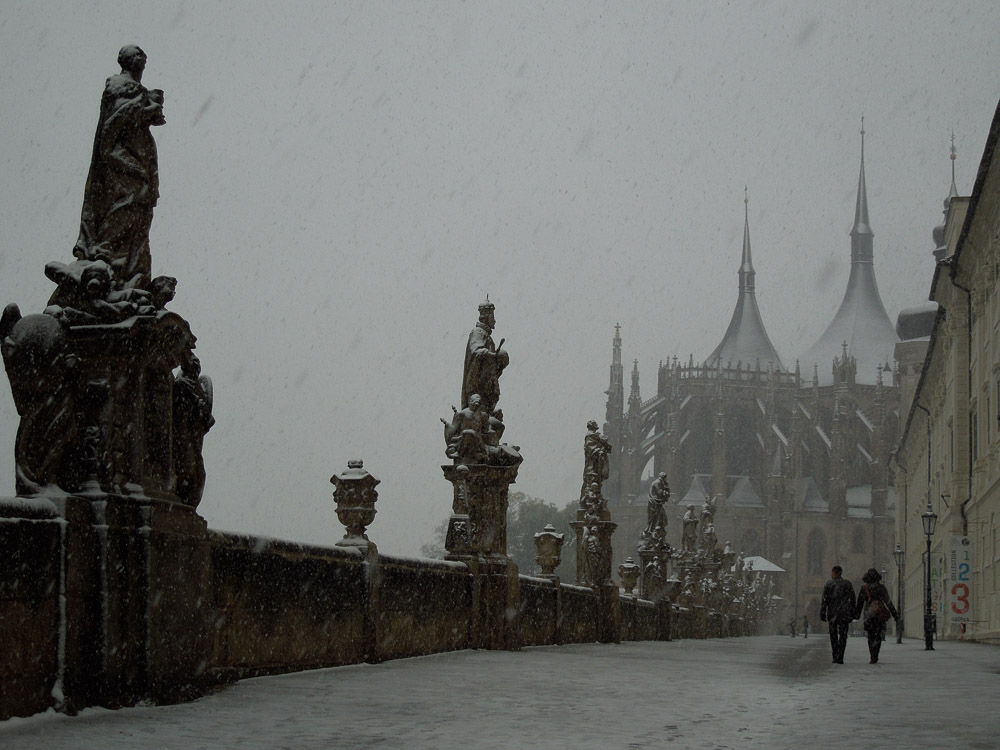 Obviously, there are many things to do in the Czech Republic's capital city aside from organized tours, but I mention them because they're an excellent option for solo travelers looking to meet people. If you're thinking of traveling solo for the first time, Prague is a great place to get started. And although this advice may sound like it's only aimed at twenty-somethings, keep in mind that the majority of hostels have no age limit. It's never too late to try backpacking!
Where in Europe would you recommend for someone traveling solo for the first time?